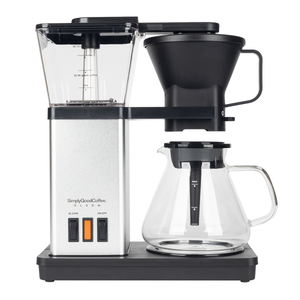 The Olson Brewer
To Order, Click on the Link Below! 
The Olson Brewer is a home coffee brewer that is capable of delivering The Holy Trinity of elements: Ratio, Temperature, and Flow Rate - all at a great price of $149.95.
Designed by our friends at Simply Good Coffee, the Olson heats water to the ideal brewing temperature of 196 Fahrenheit, has the capacity to hold the ideal 84 grams of coffee for its 42 ounce carafe, and can brew the coffee in just under six minutes.
All of these factors combine to guarantee you a great cup each time. Plus, it has a Bloom feature that pauses the brew cycle to allow the coffee bloom to complete and so that the brewer can properly hydrate all the coffee.
Brews up to 8 Cups (42 ounces)
Simple 1 Button Operation
Optional Bloom Function
Magnetic Filter Basket
Glass Carafe with Mixing Tube
Removable Parts for Easy Cleaning
Same Day Shipping
30 Day Guarantee
Two Year Warranty 
Please Note: The Olson brewer ships directly from the manufacturer