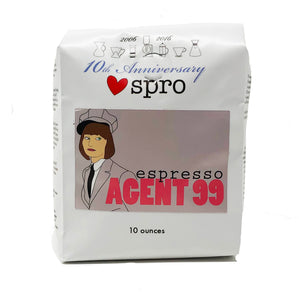 Espresso Agent 99
Espresso Agent 99
Years ago, we learned the coffee business from our friends at Hines Public Market Coffee in Seattle's Eastlake neighborhood. Sadly, that little rickety shop with its five-group La Marzocco Linea espresso machine and 1955 Probat UG-22 coffee roaster is long gone but the flavor of that heady era remains.
This is the flavor that truly kicked off coffees' "Third Wave" - a classic, now "Old School" espresso. A blend of coffees designed to bring out notes of rich dark chocolate, berry fruit and a lingering nutty finish. Excellent with milk, a properly pulled shot will give off thick, reddish-brown crema (perfect for latte art), round body and low acidity/brightness. 
Whether as a doppio espresso, Americano, cappuccino or latte, this is the espresso that rises to all occasions and is roundly pleasing. One of our favorite ways to enjoy this espresso is as a double-shot in a six ounce cup filled with water, a little sugar and a little cream. Float the espresso on top so it maintains the crema and it's just coffee perfection!
Interested in learning how to make great espresso?
Follow our YouTube Playlist.
Heritage Espresso 
Countries: Uganda and Nicaragua
Processing: Washed and Natural Processed
Varietals: Bourbon, Catuai, Caturra
Roast: Medium 
Heritage Espresso Blend Coffee
Whole Bean - 10 ounces

Please Note: Our Sproastery works on a weekly roasting schedule to provide the freshest coffee possible. Currently, our roast day is on Tuesdays. Our coffees are roasted on Tuesday and shipped out by Wednesday for weekday delivery. Please place your orders by midnight Monday night so that we can accommodate your order in our production schedule.  Thank you.