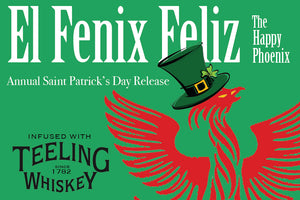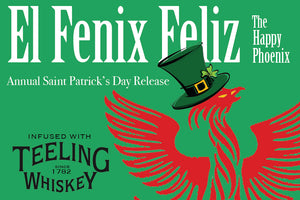 El Fenix Feliz - The Irish Coffee
El Fenix Feliz - The Happy Phoenix
Happy Saint Patrick's Day!
Each year, during the month of March, we release our El Fenix Feliz coffee in honor of Saint Patrick's Day. It's an Alcohol Removed, Irish Whiskey-infused coffee that's delicious with its subtle whiskey notes.
The name El Fenix Feliz was inspired by the Phoenix that graces every bottle of Teeling Whiskey that we use to infuse the coffee.
Aged in rum casks from Central America, the Teeling Small Batch is one of the best Irish whiskies we've tried with it's notes of sugar cane and vanilla. And since we do a lot of coffee work in Central America, not to mention also enjoying the regions rum, it seemed like a perfect pairing.
The challenge each year is to source a coffee that will pair and match with the Teeling in a complimentary manner. This year, we've selected a natural-processed castillo coffee from Riseralda, Colombia whose character compliments the Teeling.
In the cup, the coffee offers beautiful balanced notes of light blueberry, red currant, burgundy grape, vanilla, caramel and sugar cane juice, with a medium to full body and juicy brightness. 

Interested in learning more about El Fenix? Watch our video!

https://www.youtube.com/watch?v=diJZ0SgCIY0

2022 El Fenix Feliz
Whiskey: Teeling Small Batch Irish Whiskey
Region: Riseralda, Colombia
Elevation: 1600-1750 masl
Harvest: June 2019
Style: Alcohol Removed 
Processing: Natural Process 
Varietal: Castillo
2022 El Fenix Feliz
Whole Bean - 10 ounces

Please Note: Our Sproastery works on a weekly roasting schedule to provide the freshest coffee possible. Currently, our roast day is on Tuesdays. Our coffees are roasted on Tuesday and shipped out by Wednesday for weekday delivery. Please place your orders by midnight Monday night so that we can accommodate your order in our production schedule.  Thank you.