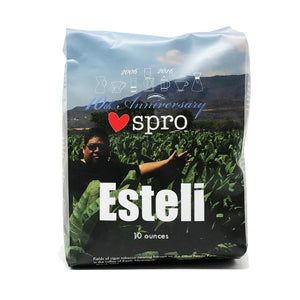 Esteli Blend
2020 Esteli Blend


After the challenge of developing the Fratello Cigar Blend that was designed to pair with the Fratello line of cigars, we thought we'd work on a different blend with a wider focus to pair well with most any cigars, but in particular, the cigars from Nicaragua.
Over the last 25 years, Esteli, Nicaragua has become the new center of premium cigar making in the world. Many enthusiasts will tell you that the cigars from Nicaragua rival or best those from Cuba. That's a pretty strong challenge and we wanted to develop a coffee that could be had, day or night, with the cigar of your choice.
The Esteli Blend is a medium bodied coffee with low acidity and notes of cacao and light berry tones. We develop the roast a bit longer to mellow out the brightness, develop the cacao notes and soften the fruit. This is a a great coffee for drip brewing, like in your home coffee pot, or even full-immersion French Press. And for those of you who like espresso, with the right grind setting, this can deliver a deep and brooding espresso that is fantastic with sugar as a Cafe Cubano.
Of course, if you're not a cigar enthusiast, we think you'll find a lot to love with this coffee as well. But if you are, this is a great coffee to sit back, enjoy a cigar and ponder the many wonders of life and how you are going to conquer the world!
2020 Esteli Blend 
Blender: Jay Caragay
Region: Uganda, Honduras
Elevation: 1500-1800 masl
Harvest: August 2019, March 2019
Processing: Washed & Natural
Roast: Deep Full City
2020 Esteli Blend
Whole Bean - 10 ounces

Please Note: Our Sproastery works on a weekly roasting schedule to provide the freshest coffee possible. Currently, our roast day is on Tuesdays. Our coffees are roasted on Tuesday and shipped out by Wednesday for weekday delivery. Please place your orders by midnight Monday night so that we can accommodate your order in our production schedule.  Thank you.