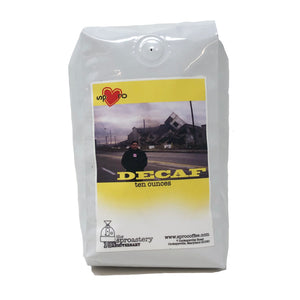 The Spro Decaf
The Spro Decaf
Decaf has an interesting place in third wave specialty coffee. Many of our peers poo-poo decaf as for people who "don't really understand coffee." However, we believe different.
It's true that quite a few people drink coffee for that caffeine kick it gives them. But what about those people who drink coffee without that "kick"? Why are they subjecting themselves to such punishment?
Perhaps it's because those people who choose decaf actually enjoy the flavor of coffee, and it's because of this that they deserve better.
Through the years, one of the challenges in finding decaf coffee is that most industry types think in the former manner - that while there's money to be made, we don't have to pay as much attention to the quality as "regular" coffees. Plus, with the removal of caffeine, the bitterness is reduced, resulting in an industry that has generally only bothered to decaffeinate the "less than optimal" quality coffees.

Of course, with the continued growing popularity of specialty coffee, this has changed over the years.
While we do look for producers who process their own decaf coffees (typically by sending their coffees to a decaffeination company), we have always searched for decaf coffees on a quality par with our "regular" coffees. And that's our promise to you: that we are seeking out the best quality decaf coffees at any given moment.
Our current decaf uses the Mexican Mountain Water process to decaffeinate the coffee. It is a Brazil MTGB (Medium to Good Bean) coffee with mild acidity, light body and notes of cocoa, baking spices that's nutty and sweet.

To learn more about the process, visit Descamex.
*The artwork featured on the label is a photo of Jay standing in front of Baltimore's old Dr. Pepper bottling plant, after they blew up the building for the movie Enemy of the State.
The Spro Decaf
Country: Brazil
Region: Cerrado, Sul de Minas
Altitude: 1200 masl
Harvest: September 2021
Processing: Natural, then Mountain Water Decaf process
Varietals: Mundo Novo, RedCatuai, Topazio, Catucai, Acaia
Roast: Medium 
The Spro Decaf
Whole Bean - 10 ounces

Please Note: Our Sproastery works on a weekly roasting schedule to provide the freshest coffee possible. Currently, our roast day is on Tuesdays. Our coffees are roasted on Tuesday and shipped out by Wednesday for weekday delivery. Please place your orders by midnight Monday night so that we can accommodate your order in our production schedule.  Thank you.